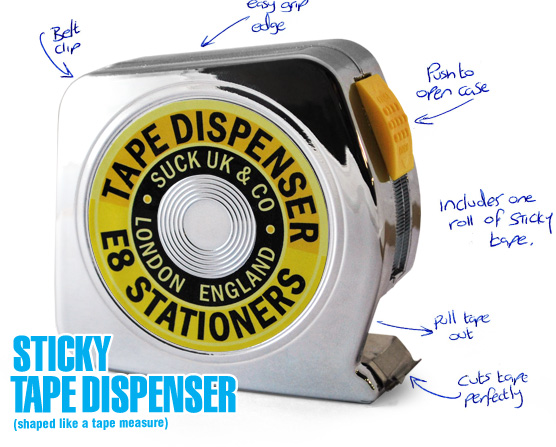 Check out this awesome gadget. It's a scotch tape dispenser that looks identical to a measuring tape. I find it amazing that a scotch tape dispenser could be made in London without it making international news. But I guess we're just all happy that it wasn't made in China.
This product had me bamboozled at first glance – it's a plethora of tape puns. I'm even sure it was a battle to come up with a proper name for it, but eventually one name stuck, and they pulled it out in the end.
The other interesting thing about this? In London they call Scotch Tape, Sticky Tape.
Brilliant.
Speaking of Scotch, I have to say this tape dispenser is WAY better than my invention, the original scotch tape dispenser.
Get the Sticky Tape Dispenser from SuckUK here

Tweet
Pin It