This is a Sponsored post written by me on behalf of Sunbelt Software. All opinions are 100% mine.
We were given the opportunity to try out the newest VIPRE Antivirus software & Antispyware software from Sunbelt. It's a quick and easy solution in the eternal struggle to protect your precious PC from the bad guys. Since we love taking gadgets apart and sharing what we know about them, we thought we'd dissect this piece of software and let you know what to expect.
And guess what? We have a free copy to give away to a lucky winner! Just comment on this post and we'll put your name in a draw to win your own copy of Vipre.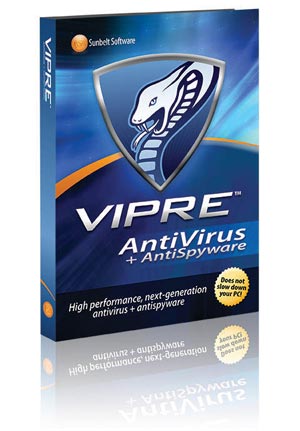 The Setup:
With our basic setup we noticed that it installed very quickly without a problem. It's compatibility is extensive, and it runs on Vista and even Windows XP, which is what we tested it on.
The Experience:
The navigation is simple and easy. In fact, it appears so simple, I was skeptical at how powerful and effective this program would really be. But with checking out the progress report, it had done a complete scan and didn't even slow down my computer in the process, which is what I really care about.
Vipre also eliminates popups and also doesn't give you annoying alerts on your desktop. Windows is notorious for doing that to me and I was happy to see it was basically invisible on my computer.
Comparisons:
In the past we used Norton Antivirus. But my complaint with Norton was how much it slowed down my computer. It felt like my entire computer would be out of commission for a few hours while I scanned for the bad guys. Vipre actually worked pretty quickly and quietly in the background. And the scan can keep working while you use other features in the program as well, or just minimize it while you do other things – which is great.
Overall I am impressed. As far as protecting my computer while surfing the net and downloading files on the internet – it can't be beat. They have a free trial on their website so you don't have to take my word for it, give it a try yourself and let everyone know your thoughts too, and with your comment we'll put your name in this special draw for all our One More Gadget readers!
Tweet
Pin It