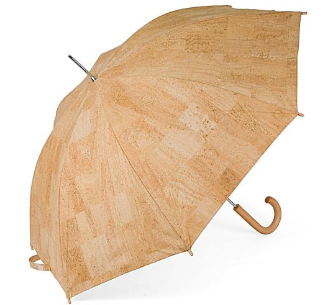 This cork umbrella is an exclusive item from the Museum of Modern Art.
Approximately 50% of the world's cork is produced in Portugal, making it a vital part of the country's economy. Moving beyond traditional uses for the material, designer Sandra Correia created this generously-sized umbrella. It features a dome made from cork, a material that is both water-resistant and eco-friendly. Made in Portugal of cork with cotton lining, a metal frame, and a wooden handle.
Quirky and corky! Go Portugal!
Get your own cork umbrella or see other items made from the cork of Portugal here

Tweet
Pin It